Let's look at why Instagram influencer marketing is so powerful.
Instagram is for sharing your experiences with your friends, colleagues and followers whereas Twitter and Facebook are primarily for sharing information.
Having already looked at what is Influencer Marketing, I am now going to focus on Instagram Influencer Marketing. I'm going to assume that at this stage you've heard of Instagram and at least have an idea of what it can do.
Now you're probably thinking how can I leverage its power to boost sales, enquiries and brand recognition. Firstly, let's look at why it is so effective.
Why is Instagram Influencer Marketing popular?
1. Suitability
Influencer marketing is all about displaying a certain lifestyle and promoting a product or service through this lifestyle. This in turn will invite potential customers to participate in it by using the product or service.
As I said earlier, Instagram is for sharing experiences and is perfect for influencer marketing campaigns.
2. Engagement
Instagram's organic engagement rate is far higher than any of the other social media platforms at 2.3% (according to this study).
| | |
| --- | --- |
| Social Media Platform | Engagement Rate |
| Facebook | 0.216% |
| Twitter | 0.027% |
| LinkedIn | 0.055% |
| Pinterest | 0.042% |
| Google+ | 0.044% |
| Instagram | 2.261% |
This isn't to say you can't get great interaction on Facebook or Twitter and run a phenomenal campaign.
By reviewing the user interactions with brands above, it proves to us that Instagram really should be at the centre of your brands influencer campaign.
3. Growth
Instagram is the fastest growing social media platform, alone this doesn't make Instagram influencer marketing the most important, so let's look at the figures.
E-Marketer predicts double digit growth for Instagram this year and to add 30 million new users between 2016 and 2020. In 2016, Instagram grew by 15.1% when the average across all platforms was just 3.1%.
In 2016, 9.5% of Facebook's global mobile ad revenues (20.1% in the U.S.) will come from Instagram. By 2017, Instagram's share will grow to 14.0% globally (28.0% in the U.S.).
This shows us that the Facebook acquisition of Instagram was more than buying market share, they have two different platforms that are used for very different reasons.
4. Personality
Through Instagram Influencer Marketing our influencers are able to get their personality across and be genuine. This isn't just paying for a product plug, you are being given the chance to impress and already engaged audience with your product or service.
This is another opportunity to set your brand apart, I have included great examples below where the personality really shines through. This isn't paying someone with a lot of followers to broadcast your sales pitch, it's about getting them to experience your product or service first hand and tell their followers how it made them feel.
Another interesting stat: on Instagram, photos showing faces get 38% more Likes than photos not showing faces.
Finding the right influencer
Having recognised that Instagram influencer marketing as the way to go, it's important to remember this is the beginning and there are a number of moving parts that need to be put in place.
Firstly, identifying the relevant individuals for your brand who have the knowledge, influence or authority to affect the purchase decisions of their audience.
It's all about who you want to appeal to. You could benefit from personal trainers sharing the carbohydrate, fat or protein levels of your sports drink or food. It could be a chef cooking using one of your products. Or a travel blogger taking a picture while enjoying your hotels breakfast as you look towards the mountains dreaming of bigger and better things.
Take a look at my examples below and not than what made them effective campaigns.
Instagram influencer marketing: 5 examples
1. Banana Republic
They focused on micro influencers known for their sense of style, reaching a large and targeted audience in the process.
The campaigns focused on the #itsbanana across all campaigns and multiple pictures showed the influencers in everyday settings with Banana Republic clothes or accessories.
More images: https://www.instagram.com/explore/tags/itsbanana/
2. Daniel Wellington
We talked in more detail about the Daniel Wellington approach in Micro vs Macro Influencers.
So I'll leave you with another example from what has to be ranked as one of the most effective influencer campaigns ever launched.
More images: https://www.instagram.com/danielwellington/
3. Frank Body
I really like this approach by the Australian Skincare company, Frank Body. The most recognisable product, a whole body scrub made from coffee, has been all over Instagram and generated a huge amount of engagement.
Of course this is so effective because of the product type and the creative licence given to influencers. Health & beauty influencers, models, athletes, fitness bloggers, and travel Instagrammers have all posted photos featuring Frank Body's products and by working creatively with a wide variety of influencers they have effectively targeted multiple markets and new audiences.
More images: https://www.instagram.com/frank_bod/
4. Sperry Shoes
Late last year, shoe company Sperry moved away from the usual marketing efforts with photographers and models, instead collaborating with fans.
The worked with over 100 micro influencers who were already sharing photos featuring Sperry footwear. They worked together to produce enticing visual content and generated more than 250,000 tags showing how real customers wear Sperry.
More images: https://www.instagram.com/sperry/
5. Boxed Water
This American based company sells, you guessed it, boxed water. They do this while using completely renewable resources. The #Retree Project has been started last year to increase brand awareness while helping the environment.
They made a commitment to plant two trees for every Instagram photo posted using the #Retree and are almost finished planting a hug one million trees, showing the effectiveness of the campaign.
This is a fantastic campaign as it is strongly aligned with the company values and it gave influencer the opportunity to positively affect the environment.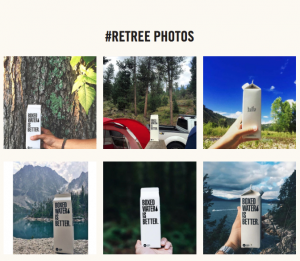 More images: https://www.instagram.com/explore/tags/retree/
Conclusion
Combined with Micro Influencers (See Macro vs Micro Influencers), Instagram Influencer Marketing can have a particularly powerful effect.
Although, it does need to be done right.
Firstly decide what you want to get from it. When engaging influencers don't be afraid to ask for their ideas and take them on board.